You've seen this one before on my post about creating a cat's garden, but I just love this photo!
And of course it was the first to come to mind for this week's Saturday photo hunt theme: Planter!
Yes, it was completely candid! Rocco climbed in there of his own free will and I happened to see him through the window. I grabbed my camera and snuck up on him, hoping to get a shot before he moved!
See that gardening post I mentioned for more great shots in this plant pot. The first shot I got, you can't even tell it's a cat! Just a lump of white and black fluff! There's one of my other kitty, Rascal, who decided to try out this cozy sun spot later that same day.
Neither had ever been in it before so I was surprised to see not only one, but also the other cat curled up in there that same day!
Rascal and Rocco are now designing their own swag!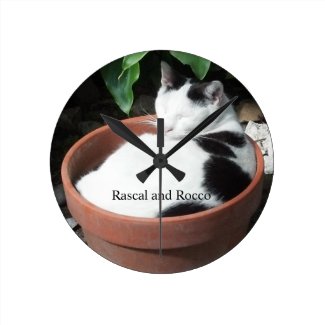 Grow a Cat Clock
by
RascalandRocco
Shop for more
Clocks
at zazzle.com
Grab a coffee mug, journal, bag, or choose from many other cat lovers gifts with this awesome photo on it and more at their new cat gift shop!
click on the clock photo above to go to our store