These are a few of my favorite things..

Handcrafted cat gifts have so much more personality
I'd much rather support an artisan than a big corporation any day, but handmade kitty cat gifts are unique and have a special quality of their own. Each item is one of a kind, love was put into making each detail of the item, and you just know much love was put into selecting a hand crafted gift. Consider hand made galleries for your holiday shopping deals this year. The best Christmas gifts for cat lovers and for anyone, in my humble opinion, can be found at art and craft shops around the world.
Here are a few of the best gifts for a cat lover that won't break the bank. You can get each of these cat gifts for under $30. These are definitely things this cat lover would want for Christmas, so if you were planning on sending me a little something, here you go. No more guess work! I'll act super surprised, I promise!
Best handcrafted gifts for cat people:
on Etsy:
To view the entire treasury, check it out on Etsy here: Etsy Cat Treasury.
I will have some of my own cat art up on Etsy very soon, so stay tuned! You won't want to miss that! If you're looking for your favorite cats, you can find the boys lounging around here:
More cat gifts your friends and family will love:
There are plenty of items on Zazzle that can be customized and personalized to meet your needs and add an extra personal touch.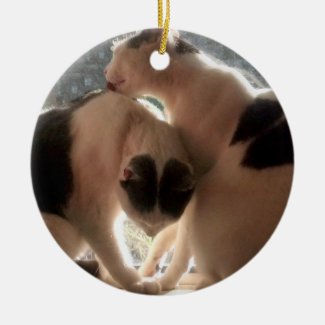 Kitty Love Double-Sided Ceramic Round Christmas Ornament
by
RascalandRocco
Browse Cat Ornaments online at
Zazzle.com
Find more of your favorite Rascal and Rocco moments on items you use every day, cat notebooks, cat mugs, and more, at Zazzle. com/rascalandrocco.